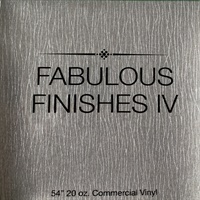 Fabulous Finishes IV
Fabulous Finishes IV (4) Commercial Wallcovering Collection
Hotel, Retail, Healthcare, Senior Living, Corporate
High Performance Vinyl Goods
Total Weight (oz./lin. yd.) 20 oz
Backing Type: Non-Woven or Osnaburg
Meets or exceeds requirements of G.S.A Federal Specification CCC-W-408D for Type II material.
Fire Hazard Classification: Class A Fire Rated ASTM-E-84
Environmental & Health: Low V.O.C emitting vinyl wallcoverings meets California Department of Health Service section 01350 requirements for office and school interiors.
Indoor Air Quality: All heavy metals such as lead, mercury, cadmium and chromium have been eliminated.
Products